Extruder installed at Trinity College Dublin to advance Irish materials research
Extruder installed at Trinity College Dublin to advance Irish materials research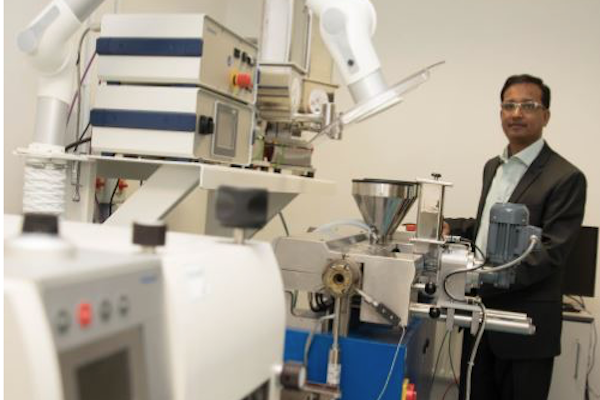 Brabender Twin Screw Extruder helps AMBERS vision of 3D printing for future manufacturing technologies.
AMBER, a materials science centre based at Trinity College Dublin, has added a Brabender 20mm twin screw compounding extruder to its growing capability in polymer and composite materials development.
Supplied via Engelmann & Buckham, the Brabender 20/40D segmented Twin extruder is equipped with two Brabender gravimetric feeders and a side feeder. Absolute control over the primary polymer and additives will ensure that speciality compounds can be produced in pellet form or thin film and reproduced with an exceptional level of precision and repeatability.
Mark Galliver of Engelmann & Buckham, said: "This Brabender extruder enhances AMBER's existing capability allowing them to reliably produce high-end polymer composites on the kilogram scale."
The extruder will help AMBER translate polymer composite research from lab to pilot scale which is essential for the medical device sector who require new materials in sufficient quantities for early stage product development and testing.
Prof Michael Morris, Director of AMBER said: "The tool will also complement our recent investment in 3D printing and additive manufacturing infrastructure which will be launched in early 2018. With the Brabender extruder, our lead researcher Dr. Ramesh Babu will have the capability to produce custom made filaments for a polymer based 3D printing technique known as Fused Deposition Modelling (FDM). This will open up the technique to a range of new materials enabling 3D printed objects with properties such as enhanced mechanical strength and electrical and sensing functionality. Our vision is to become a research leader in the development of the materials roadmap enabling 3D printing for future manufacturing technologies.