Repairs & DIY with Plastic
Repairs & DIY with Plastic

We receive lots of enquiries about using plastic to repair, fix, mend and replace many different types of broken items as well as tackling improvement projects. There seem to be quite a few people out there with broken picture / photograph frames, fridge shelves, cat and dog flaps, windows and greenhouses to name a few so we'll dedicate this space to writing about how you can use plastic to fix these problems as well as popular DIY plastic projects.

Plastic is a very versatile material - and the various types of plastic come with their own price, strength, durability, maintenance, and aesthetic considerations. Our quick guide below shows which plastic is best suited for which repairs.

Broken picture / photograph frames
Clear acrylic is a great choice as a replacement for the broken glass in a picture or photograph frame. Clear acrylic is 10x stronger than glass and withstands more knocks and bumps, so you can be sure it will be a safer, longer lasting option than glass.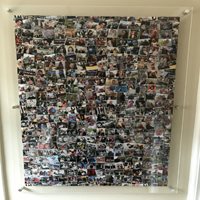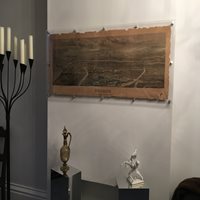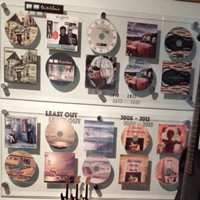 Fridge Shelves
If you've broken your fridge shelf, replacing it is quick, easy and inexpensive with PETG plastic. PETG is the plastic to choose because it is FDA approved meaning it is safe to use with food. PETG can be delivered cut to the size you need to go into your fridge. You'll find it's most likely at least half or a third of the price of buying a replacement.

Windows & Greenhouses
Plastic is an ideal replacement for glass glazing because it is much lighter and stronger. Choose acrylic which is 10x stronger than glass, excellent for withstanding heavy impacts and just as clear or polycarbonate which is 200x stronger than glass and virtually unbreakable. Both acrylic and polycarbonate are suitable as a replacement for internal and external glass. If you are looking to replace greenhouse panels our preference is for polycarbonate because it is stronger than acrylic and overall makes your greenhouse virtually unbreakable.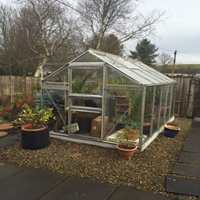 Cat and Dog Flaps
Polypropylene and polycarbonate are good choices for replacing cat and dog flaps. If you want a clear flap go for polycarbonate it is clear like glass but much lighter and yet 200x stronger. It also withstands all manner of impacts and bumping! If don't want a clear flap, go for a solid white (or natural / black) polypropylene. Polypropylene is an extremely tough, durable plastic with excellent impact resistance and is almost unbreakable.

Noise Reduction
If outside noise from trains, buses, cars, people etc is filtering into your home, installing a secondary window pane is an easy and practical way to help reduce it. You'll also benefit from a warmer room and reduced energy bills without the associated expensive double-glazing costs.

Installing a second window (secondary glazing) may seem like a complicated task but check out acrylic Magnetglaze which makes it a very easy, inexpensive and quick improvement to do yourself. This popular project has rave reviews from customers which you can read on independent site Trustpilot.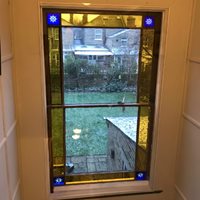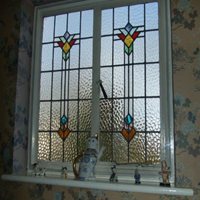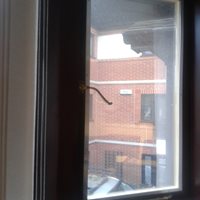 Joining and Gluing Acrylic
If you have a project which requires acrylic to be joined together we hope this blog will help you. From all the conversations we have with customers about this topic first thing to say is that Acrylic can't be glued together with adhesive. The best way to glue acrylic sheets together is with a chemical solvent called Acrylic Cement.

This process is known as solvent welding. It creates a very strong and secure bond because the acrylic sheets are not glued together but are welded together instead (the Acrylic Cement softens the acrylic so the pieces reform and become one piece).

3 Important Points About Working With Acrylic Cement:
Because Acrylic Cement is a chemical solvent you should always take proper precautions and wear gloves and safety goggles when using it.
Take care not to spill any of the solvent - this will mar the acrylic sheets.
If you spill the solvent, let it evaporate. Don't wipe it up.

How To Make Joins
Take a close look at your acrylic to check for rough edges. The edges need to be as smooth as possible so they can touch which enables the cement to work. You can get a smooth finish on your acrylic pieces by lightly sanding the side that you will be gluing down. If you have any gaps between opposite edges, the cement is less effective making your finished structure weak. If you can't get your edges smooth you can secure them together using Viscous Cement instead although this is not as good a method.

Clamp or tape the acrylic pieces into the positions you would like to glue them into or have somebody hold them - allowing space to apply the cement.
Use a needle-nose applicator bottle to apply the acrylic cement to the acrylic pieces. Run a bead of Acrylic Cement along each seam. Acrylic Cement is a self-wicking liquid, so once you run the bead along the seam, the cement will run between the pieces and begin to dissolve the acrylic, forming a strong bond immediately.
Let your acrylic project cure for 24-48 hours before removing the clamps / tape and before using the object.
For acrylic pieces cut ready to your sizes visit our main website.


Bending acrylic
Acrylic can be bent if it is heated. When it cools down, it will hold its shape.

To bend acrylic at home, you will need to heat it up with something like a strip heater and some clamps to hold your acrylic into your chosen shape. A strip heater has a heating element running between two tubes that are water cooled. The tubes hold the acrylic sheet in place and you should be able to adjust them to the thickness of your acrylic sheet.

Here's our 4-step guide to bending acrylic:
1. Remove the protective film on your acrylic before you heat it. If you leave it on, it is likely to be very difficult to remove after heating.
2. Let your strip heater get hot then insert your acrylic between the tubes of the strip heater so that the tubes are at the place where you want to bend your acrylic sheet. A 1/4-inch-thick piece of acrylic can usually be completely heated at about 300 degrees for about 8 minutes. Try some test bends to work out the best settings.
3. Bend your acrylic into the shape you want. Bend slowly -your acrylic is less likely to snap with slower movements - and bend away from the heated side (this side has more give to it and is less likely to crack).
4. Use clamps and weights to hold your acrylic in the shape you want. Keep your acrylic in place while it cools - open air is fine or you can use a cooling jig.


Quick improvements with acrylic
Acrylic is an amazing safe alternative to glass. Much lighter in weight and 100 x stronger than glass, acrylic is found in many of our homes as furniture such as coffee tables and side tables, splashbacks, furniture protectors and mirrors. If you would like to bring a touch of glamour and / or protection to your rooms, acrylic is a great choice and to show you what we mean, here are a few of the projects our customers have completed using acrylic that we have cut to the size and shapes they've required. Add a little polishing around the edges of the acrylic and there's gleaming and shining to impress.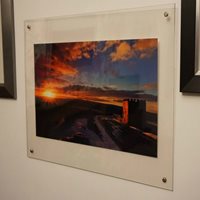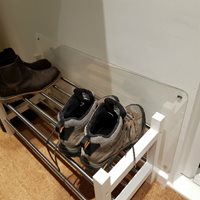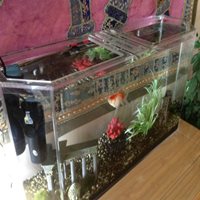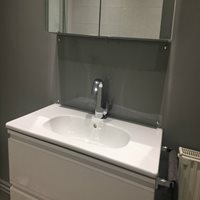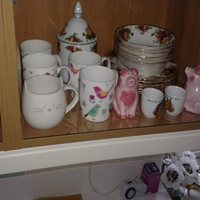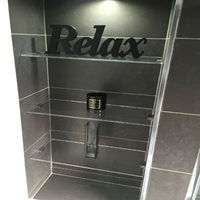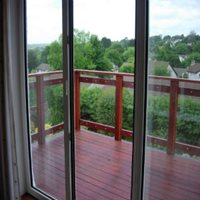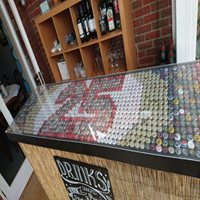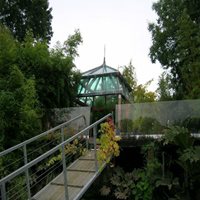 Smartening up your tables is easy - for a high end look, use 4mm acrylic or 5mm acrylic cut to the size of your table with polished edges.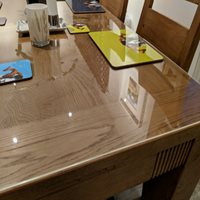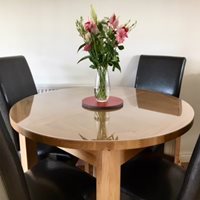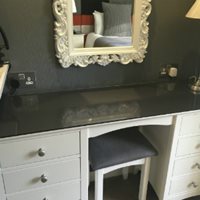 Precious, much loved items can be brought into every day use with acrylic over them as protection. With a little imagination you can even turn an unused space into a design feature. We love what this customer did with her window space.